How to request Support via Widget on the Website
Before opening a new support request, we kindly ask you to take a look at the official Mollie Payments for WooCommerce documentation. You can also search our knowledge base by typing your keyword into the search bar on the left side.
Please open a support request with us if your question was not answered by the documentation. This article will show you how to get in touch with us via our website.
How to request Support via widget on the website
In the bottom right corner of our website, you will notice a circular green widget with a white question mark: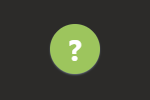 Question: But what if I don't see any widgets on this site?
Answer: Please make sure that your browser is not blocking Javascript on this site. If you use browser extensions like Ublock Matrix or Privacy Badger, you may need to whitelist this site to access the widget.
Click on the widget to open the Support Request Form. The form will look like this: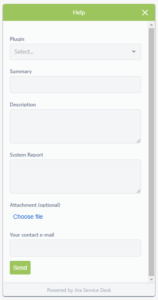 Select the plugin you want to request support for
The first step is to chose whether you want to submit your request for either Mollie Payments or Mollie Subscriptions. If you have questions regarding both plugins, please open two separate requests, one for each plugin specific question.
Summary
Briefly describe your issue or request in a few words. Example below:
 Error message after placing orders with credit card
Description
Please describe your issue or request in detail. To assist you as fast as possible, we must know what is happening, when it is happening and why it is an issue. Try to provide us with enough context information to understand the issue in its entirety. If you have a staging environment with the behavior you want to report, we may ask you to provide us with temporary user credentials to observe it closely.
Please include steps to reproduce the behavior you want to report. Example below:
      Step 1: place order for any product

      Step 2: enter credit card details and submit with "pay now"

      Step 3: receive error message below

      Error: "Error: generic error message: error code 1234 was not found"
System Report
To retrieve your System Report, please navigate to your sites WordPress Admin Area and click on:
WooCommerce -> Status -> "Get system report"
You can simply paste the plain text information in the field titled 'System Report'. Including the System Report is crucial for us to understand important context of your site.
Attachment (optional, but important)
Click on "Choose file" to attach any additional files. We are interested in files that may help to better describe your current situation or particular issue.
Please include Mollie specific log files which can be accessed here:
WooCommerce -> Status -> Logs
Sometimes a screenshot or short video can describe an issue or behavior better than a thousand words. However, please explain your attachments and why you chose to add them.
Your contact e-mail
The email address you provide will receive a copy of all further messages from our support staff.
After you entered all of your information
Before you submit your request, please take a moment to review and make sure you have collected all relevant context information. For easier reading, you can increase the size of each text box by dragging down the bottom right corner. To submit, click on 'Send'.
I have sent out my support request. Now what?
After submitting the Support Request Form with all relevant information, you will receive an email confirmation. Our support staff will then get back to you as soon as possible.
If you forgot to include some information or attachment before submitting, you can always reply to the confirmation email we sent to your address. Further communication between you and our support staff will be held via email with the email address you provided.